LiftWich Changing a $2Billion Dollar Industry
LiftWich Gooseneck Jack & Tow Highway Solution
Reduce Rental Chassis 40-60%
Reduce Chassis Maintenance 50%
Reduce Your Chassis Graveyard 50-90%
Easy Entry into the moving and logistics industry (PODS, U-BOX, U-Pack, Pack-Rat)
Use your Pickup for Your Business or a Mobile Tiny Home
Patent Pending
This section is to help educate / train how to use / install it. 
Gooseneck-V-Frame
This video covers every aspect of LiftWich, however, other videso below show how developed this product and provide additional insights to how it works.
Installation CAD Simulation
LiftWich Version 2 Max Strength is 100% in CAD, which enables us to create animated installation videos. Here are the steps
Install V-Frame / Upper Corners with Tri-Plugs
Install uChassis / Lower Corners with Tri-Lug/Dynamic Corners
Install Container Saddles (two methods, front or back)
Install HeimJoint Strut (stabilize entire system for max speed)
Install Electrical (Electric Brakes and Lights)
Drive down the highway (Max Highway Speed)
uChassis
Liftwich is supported by our Modular Container Saddles in the back and our uChassis in the front. This combination can be used for 6ft to 53ft containers.
This eliminated the chassis & flatbed or 6,000 to 10,000 lbs of metal
The picture is our first prototype of the uChassis with our first design of the Dynamic Corners. Worked perfectly. The current design is much more robust and has two new custom CNC parts, a Snatch Block pulley to a winch which doubles the capacity of the Winch 12k up to 24k.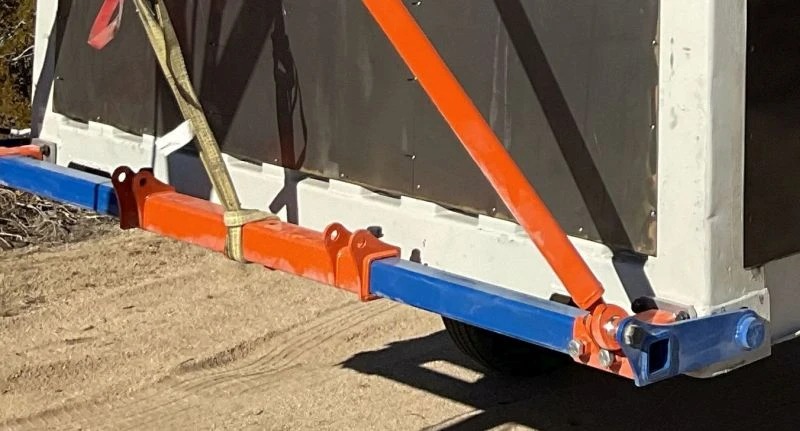 The Struts
The Struts are the metal bars that connect the micro chassis to the V-Frame. The struts distribute the load to all four corners of the container and stabilized the entire system. And enables MAX speed on any highway legal speed. Even on the autobahn in Germany.
The Winch
The Electric Winch performs the following tasks:
Installing the V-Frame on a Container
Installing and V-Frame Gooseneck End on your Truck
Installing the Container Saddles (axles)
Un/Loading Struts for max stability and strength
Parking your Container with BaseWich
Disconnecting your truck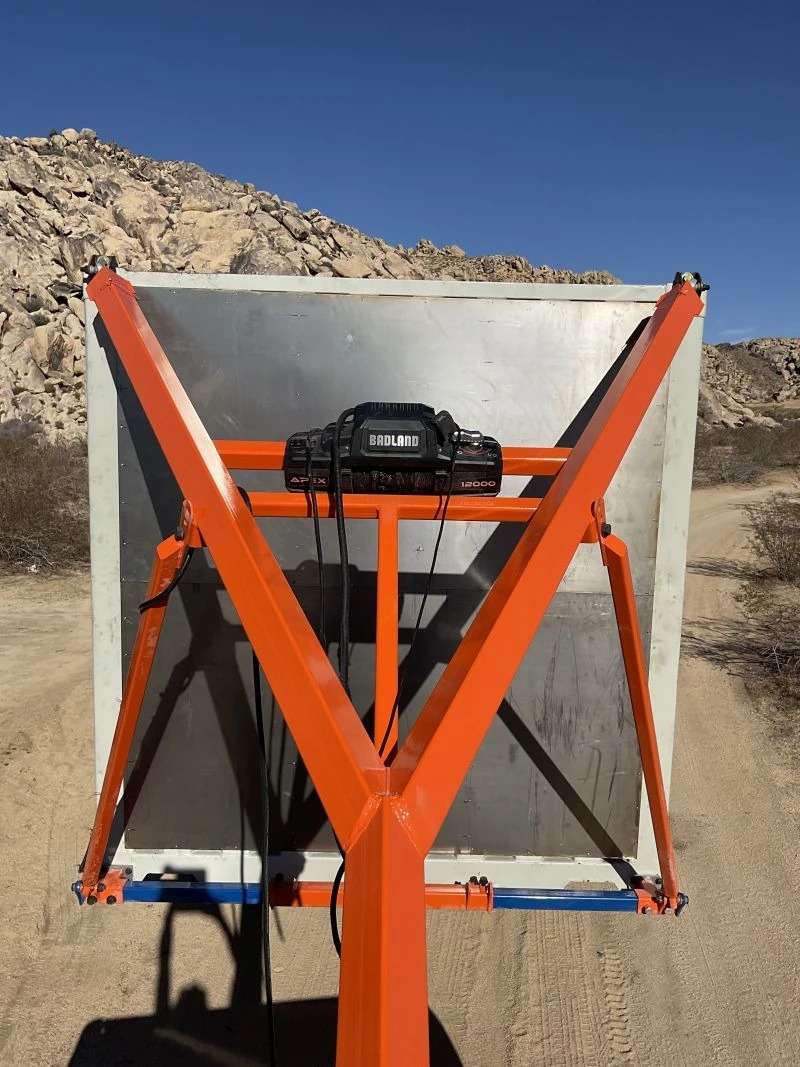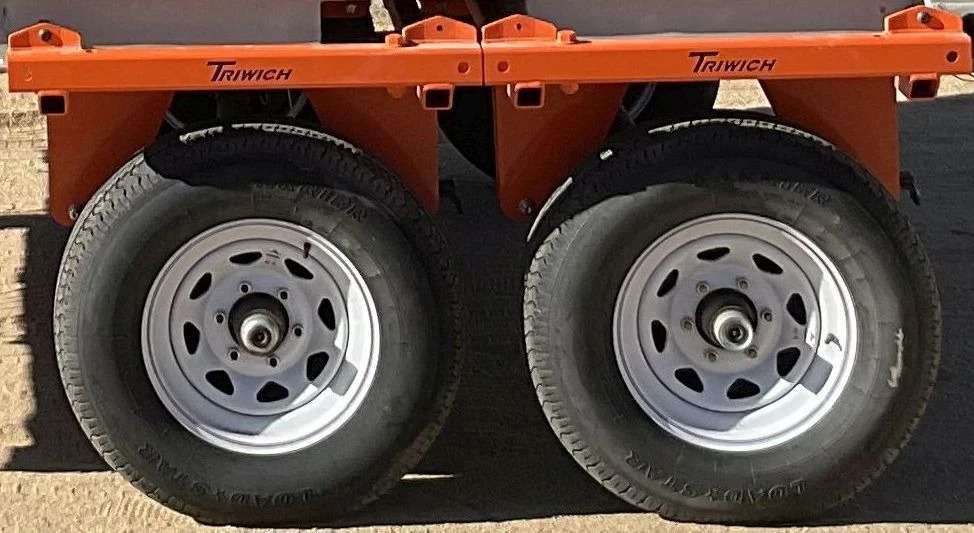 Container Saddle
Container Saddle is the name we call our Modular Axles. We are able to connect 1, 2, 3, or even 10 axles in tandem like a centipede.
The lead Container Saddle connects to the uChassis so you can travel without a Shipping container.
BaseWich
We need a way to hold up the container while we disconnect the LiftWich from the truck. Our Tri60 dollies are modular, so we just had to create a Base Plate to create Base-Wich. This product can be used to level containers from 6 inches high up to 36 inches.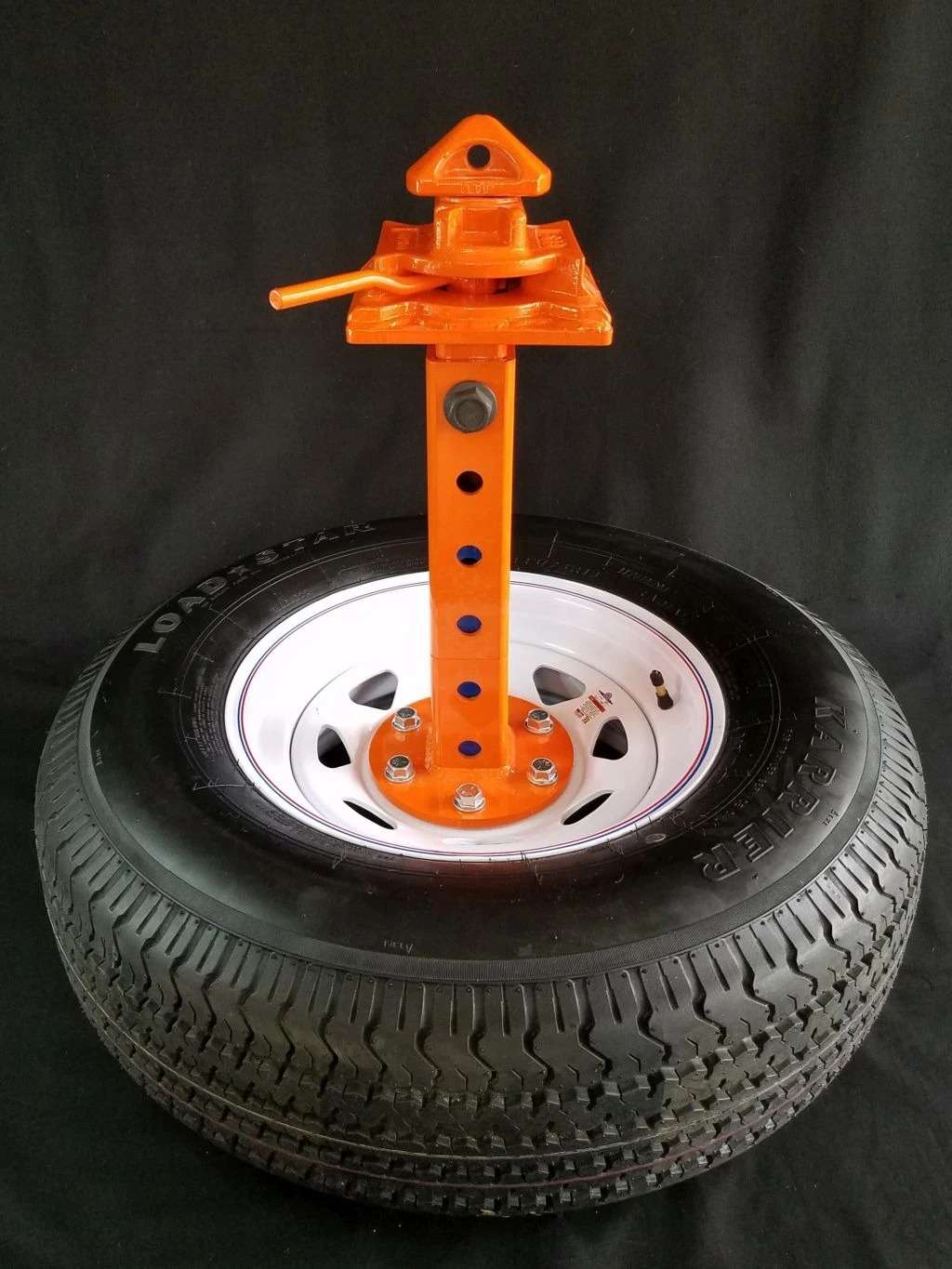 BoXLeSS
Lastly, picking up and drop off a Containers means you need to travel without a Shipping Container. Yoiu will be with out a box "BoxLess"
Simply attach the Container Sddles directly to the uCHassis
And Lock the V-Frame.
Lights & Brakes
Since LiftWich is a flexible trailer for any trailer 7FT to 53FT the electrical system has to be external. The electrical configuration we use is the following
7 Way Magnetic Connector (quick connect and disconnect for fast assembly)
Junction Box on Lead Container Saddle
2 Way Wires to Brakes
4 Way Wires to Lights
Cable Length – Depends on the size of the container, so we offer solutions for 20ft, 40ft and 53ft shipping containers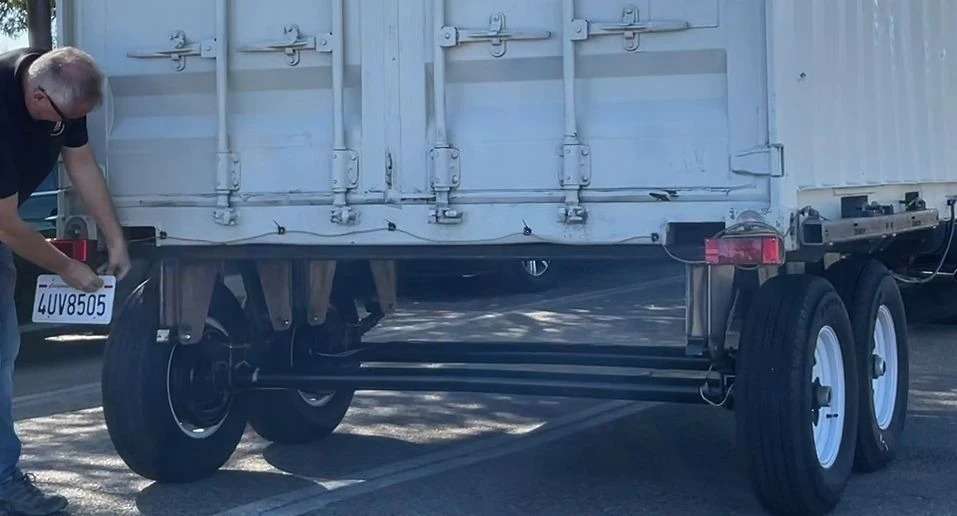 Mobilize any small business: Landscaping, Construction, Catering, Tiny Homes, Wheel Chair accessible RVs, Theater Stages, Ice-Fishing, etc.. What is your business? Plus LiftWich will be replacing the Tilt-Bed Industry Turnkey Wrapped Containers or Cost Effective DIY Kits
LiftWich
LiftWich with 1 - 2 - 3 Axles
Our patent pending Gooseneck container tow equipment with modular container saddle axles enables :
1 axle –     5,560 lbs axle (20ft containers)
2 axles – 11,320 lbs double axle (40ft containers)
3 axles – 16,680 lbs triple axle (53ft containers)
We offer a full Wrap container service from buying a container, graphic design, wrapped containers and delivery options to your door. We also offer to ship all the parts so you can build it yourself.
Currently, we are looking for a professional Tiny Home / motorhome manufacturer to partner with to customize shipping containers for personal and/or business venture.
Choose your Shipping Container
Select any container in the Southern California area and we can pick it up with a LiftWich.
The CEO at Shipped.com asked if we could take TriWich on the Highway He planted the seed so we partner with them today. Push the Logo and find a container at Shipped.com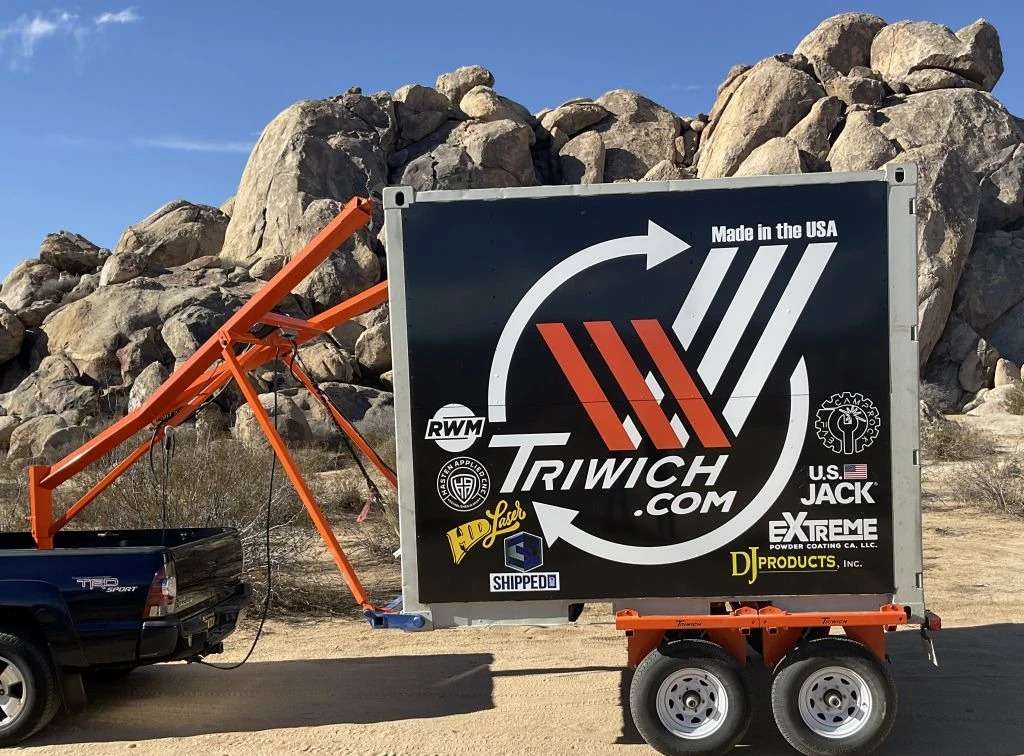 Customize Your Container
This is an AMAZING FUN product / Get your LiftWich
Powder Coated any color you like

Professionally Wrapped (Graphic Support if needed)
Shipping Container Basic Modification
Standard Doors – Residential, Industrial or Security

Roll Up Doors – Standard or Heavy Duty

Windows

Shelves
Tiny Home Design (FY23Q2)
Internal – Insulation, Flooring,

Electrical – HVAC, Lighting, Appliances, RV System

Plumbing – Shower, Sinks, WC, RV plumbing

Window – Skylights
How Do you Want it Delivered?
Without Container "DIY Kits" We arrange freight or you can if you like
With Container – Valet Service or pick it up yourself
 Ask about our shipping special
What works best for you?