Tri60 "The Universal Dolly"
2,400 lbs to 320,000 lbs systems
100% modular / 20 lbs picks up 40,000 lbs
Started with a 3,000 lb Safe / Now Picking Up 320,000 lb systems
Safes, Cars, Engines, Semi-Trucks, Shipping Containers, Aircraft, Machinery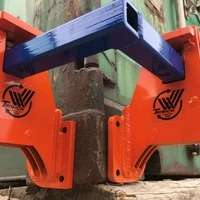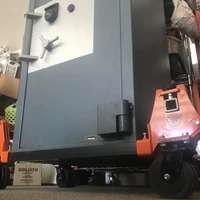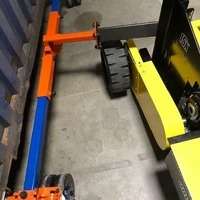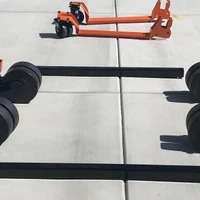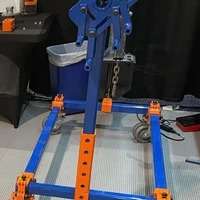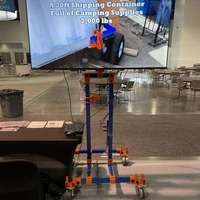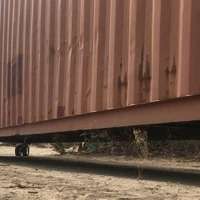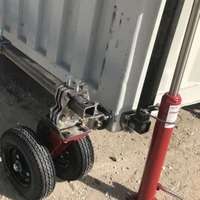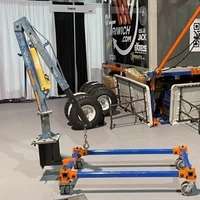 The First Tri60 T1 5,000 lbs Safe Dolly
We disconnected our TriWich from our Heavy Duty 18,000 lbs/tire Semi-Truck Wheel Dolly and added a tow hitch (Seamless tube) to the back. This safe was our first test to see if it woudl work. Work it did with 2″ square tube and 2″ angle bars . Application with Angel Bar Dolly: Safes, Washers, Dryers, Refrigerators.
Throw in some Tri-Ways and Tri-Bars and you could safely move Pool Tables, Glass Tables, etc.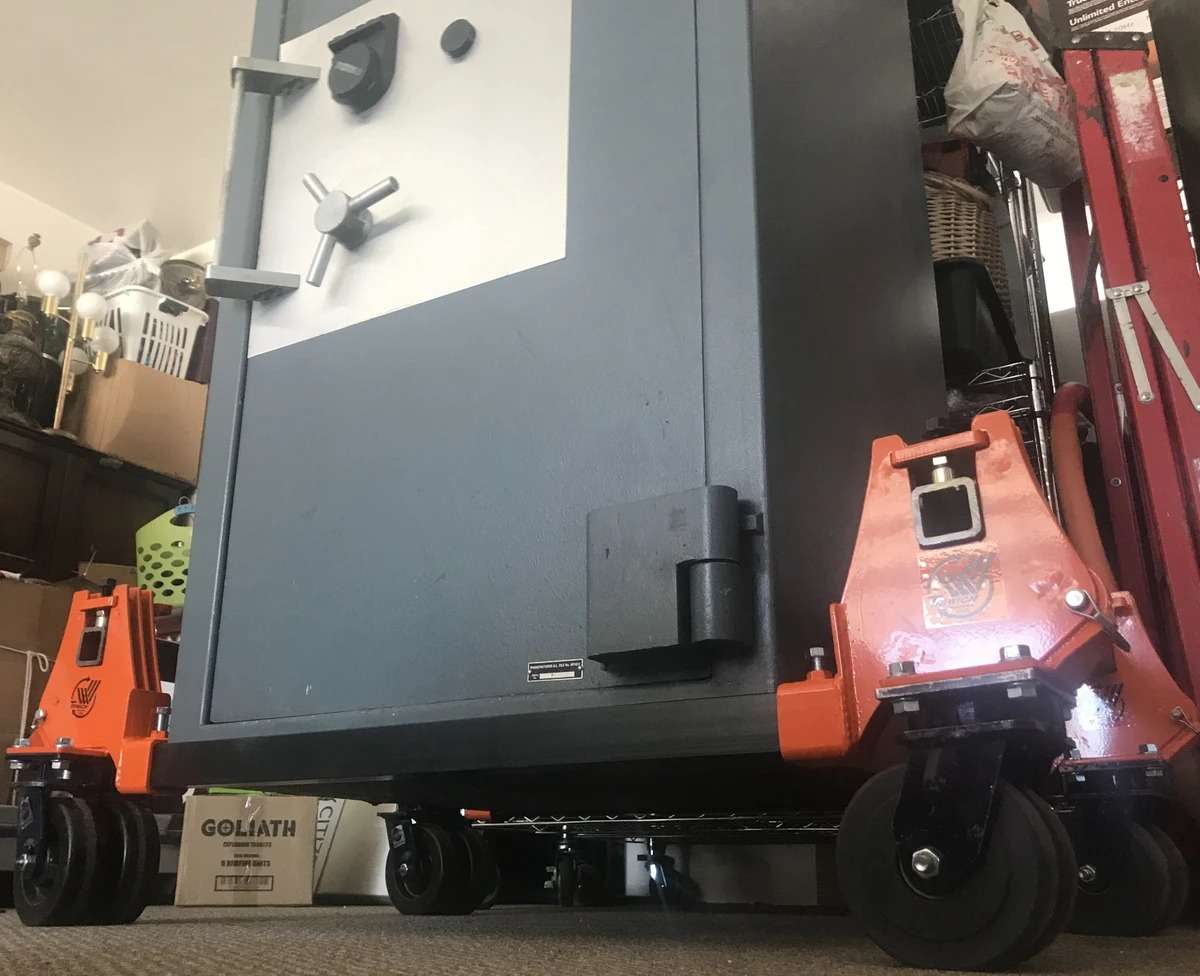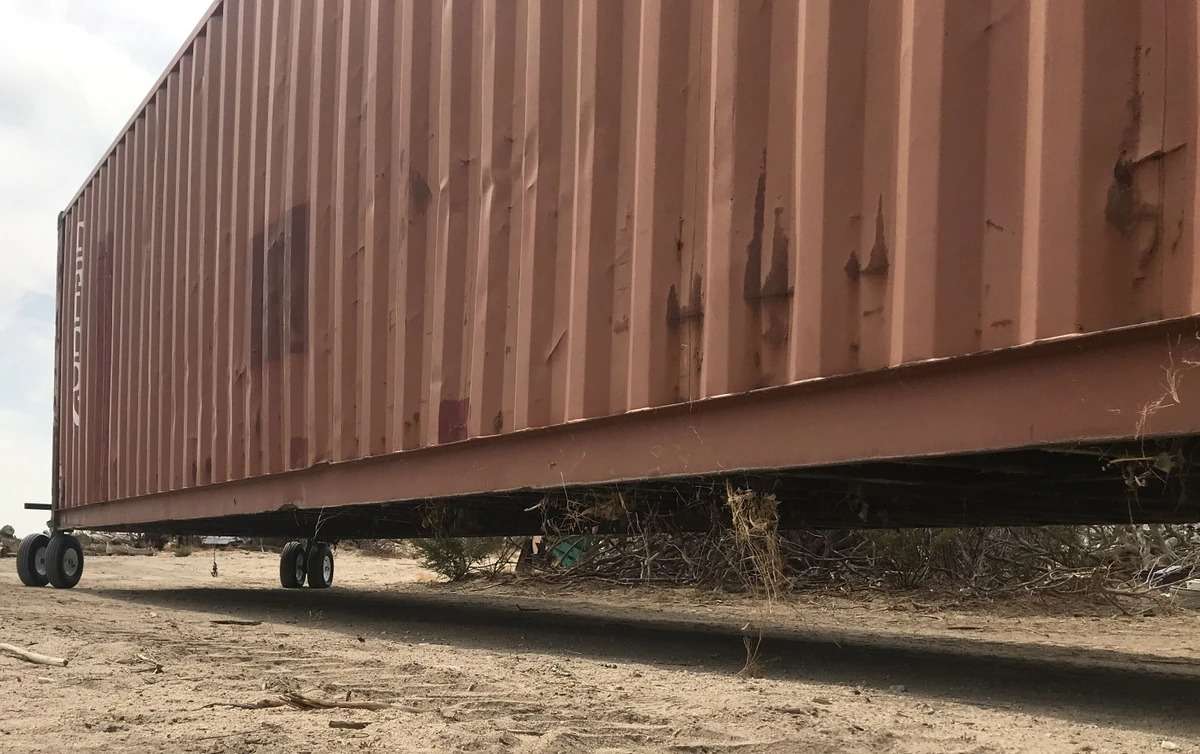 The First Tri60 T3 8,000 lbs 40ft Shipping Containers on Sand with Pneumatics
From Safes, we went straight to a 40 ft. shipping containers with 18″ pneumatic casters on sand. For the first time our T1 showed some stress, so we doubled our TriWich from 3/16″ to 3/8″
Pneumatics are the most demanding casters which is when US Navy and US Airforce called us after this video. We developed the SpindleWich and V-Wich for the military. At the same time AT&T contacted us and we developed CaddyWich and Tri-Jack Requests for tractors and forklift naturally followed. ForkWich Plus we had constant request for a highway system LiftWich
The First Tri60 T5 60,000 lb AT&T CaddyWich
Unlimited in Design
T1 (3/16″) The original (Semi-Truck Wheel Dollies)
T2 (1/4″) 2,500 lbs/Tri60 (7,500 lbs / dolly)
T3 (3/8″) 10,000 lbs/Tri60 (30,000 lbs / dolly)
T5 (1/2″) 33,000 lbs/Tri60 (99,000 lbs / dolly)
T6 (5/8″) 40,000 lbs/Tri60 (120,000 lbs / dolly)
A T9 999 (1″) could hold 160,000 lbs (480,000 lbs / dolly)
Double Capacity with Tri-Corners
Picture: AT&T 60,000 lb container dolly 2-95-NYB-1030-S
Pneumatic – 67,200 lbs/Container (Off-Road)
Nylatron – 198,000 lbs/Container (Tarmac)
Urethane on Iron – 104,000 lbs/Container (Industrial)
Shock Absorbing – 76,000 lbs/Container (Fragile Load)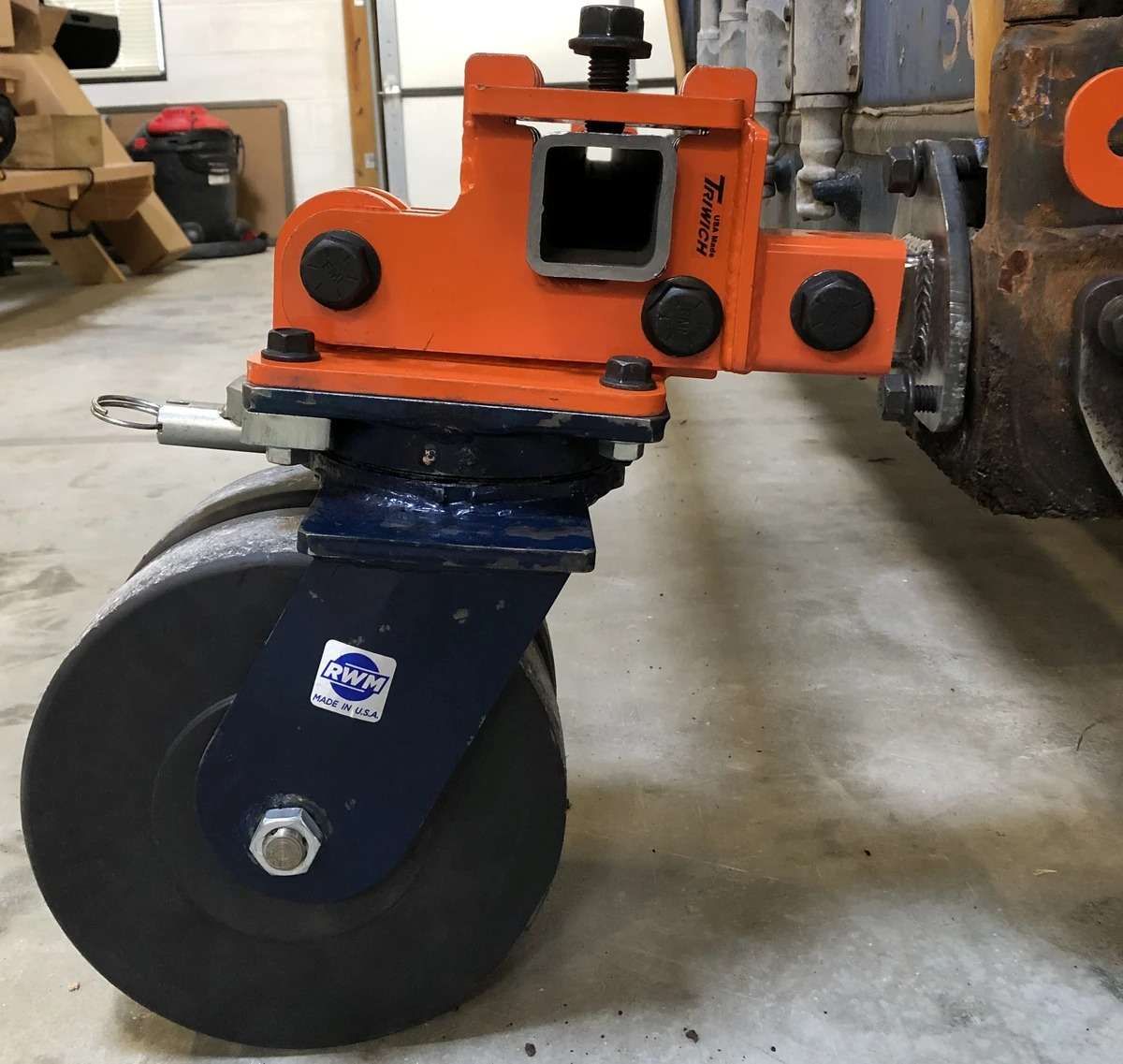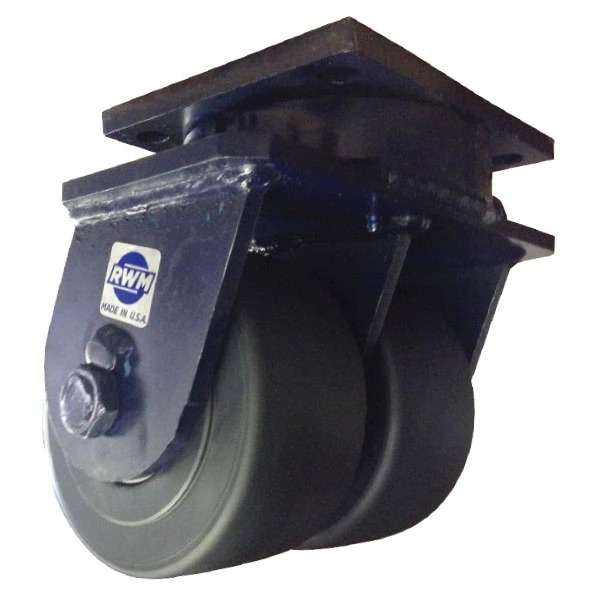 Modular Mobility Connectivity
Once you build a modular Tri60, then you can connect everything you can imagine to it, making it standardized and 100% modular.
TriWich Tri60s connects directly to:
Any-Wich – Machinery or Wooden Sheds adapter
Tri-Lug – Shipping container connector (20,000 lb/Tri60)
WMD03 – Modular Wheel Dolly Arm 18″ (3,700 lb/tire) Ultra-Low
WMD06 – Modular Wheel Dolly Arm 28″ (6,000 lb/tire) RV
WMD18 – Modular Wheel Dolly Arm 28″ (18,000 lb/tire) Semi
Tri-Bars – From 5″ to 96″ (build your own moving platform)
Other fun ones to know:
Tri-Couplers – ForkWich, V-Wich, CaddyWich, LiftWich
Tri-Plug – Shipping Container Shield Hole (LiftWich Patent Pending)
Tri-Dove – Shipping Container Dovetail Twistlock adapter
BaseWich – Shipping Container Jack Stand 10″ to 35″
Tri-Ways - The Directional Connectors
Creating a retro dolly your standard dolly into a dolly you actually want, only requires some simple connectors we call the "Tri-Ways":
Tri-Way-HX – Horizontal (H) Opposite (X) Direction
Tri-Way-HI – Horizontal (H) In-line (I) Direction
Tri-Way-VX – Vertical (V) Opposite (X) Direction
Tri-Way-VI – Vertical (V) In-Line (I) Direction
These can be used to retrofit your old dollies, pull shipping container and for a multitude of different applications.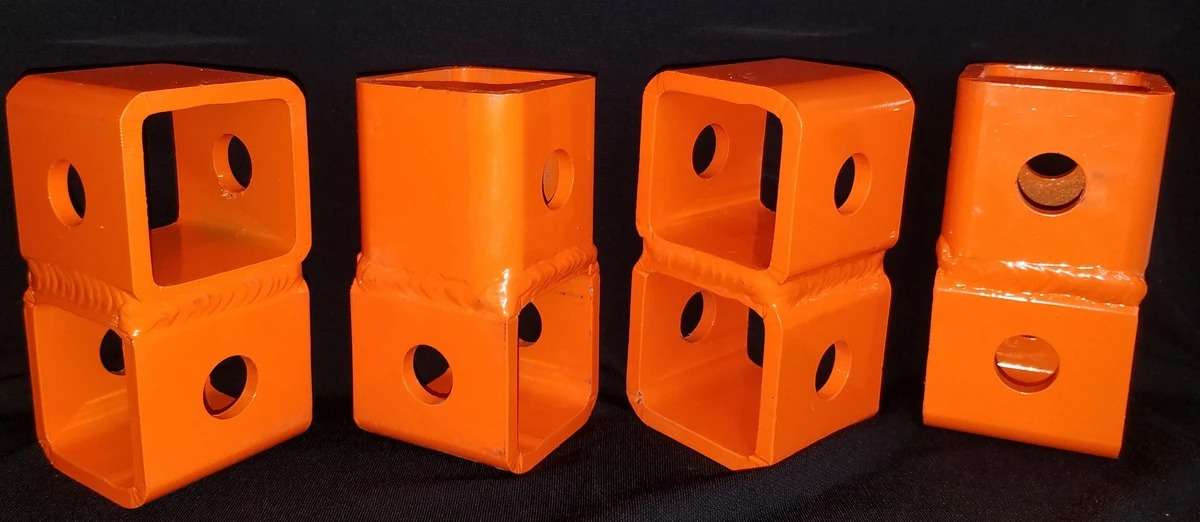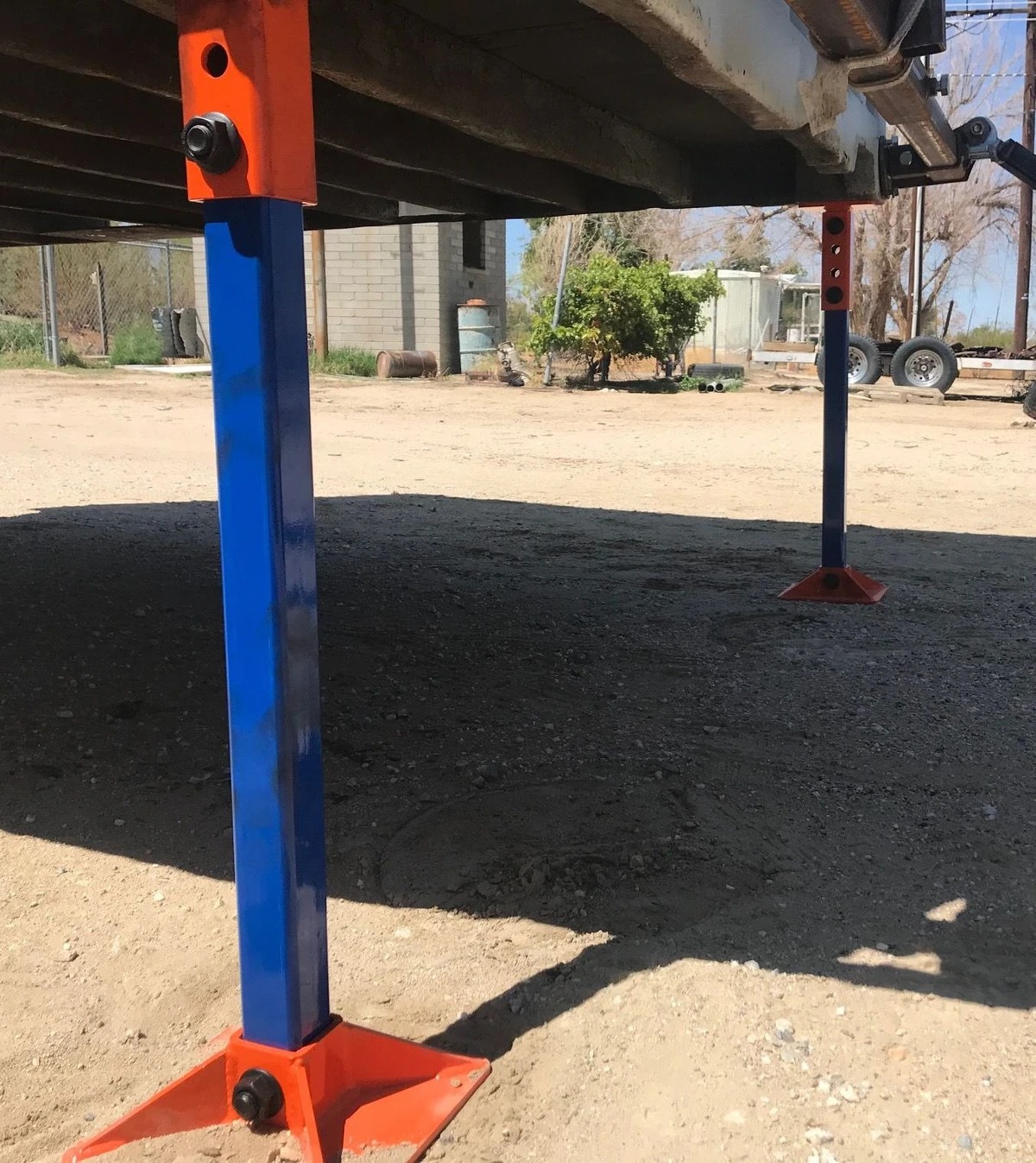 Tri-Bars - Standard Modular Bars
Mother necessity is the root cause of many of our products. We have several standard Tri-Bars now.
Tri-Bar-05 – 5″ (BaseWich)
Tri-Bar-14 – 14″ (BaseWich)(LiftWich)
Tri-Bar-28 – 28″ (BaseWich)(DoorWay)(Wheel Dollies)
Tri-Bar-40 – 40″ (Wheel Dolly)
Tri-Bar-45 – 45″ (Engine Hoist)(Shipping Container) Interchange Tri-Bars with a BaseWich to obtain to hold Containers 5″ to 45″ off the ground
Axle / Chassis Dollies
After Shipping Containers with our new pneumatic casters, we pondered what else the pneumatic system could be used for. How about Axle Wheel Towing Dollies? Yes, picking up our truck was simple.
We will continue to recommend our wheel dollies for safety. Longer bars begin to bow, which affects the levelness of the casters. It will be more noticable on smaller casters, although pneumatic caster will remain unaffected.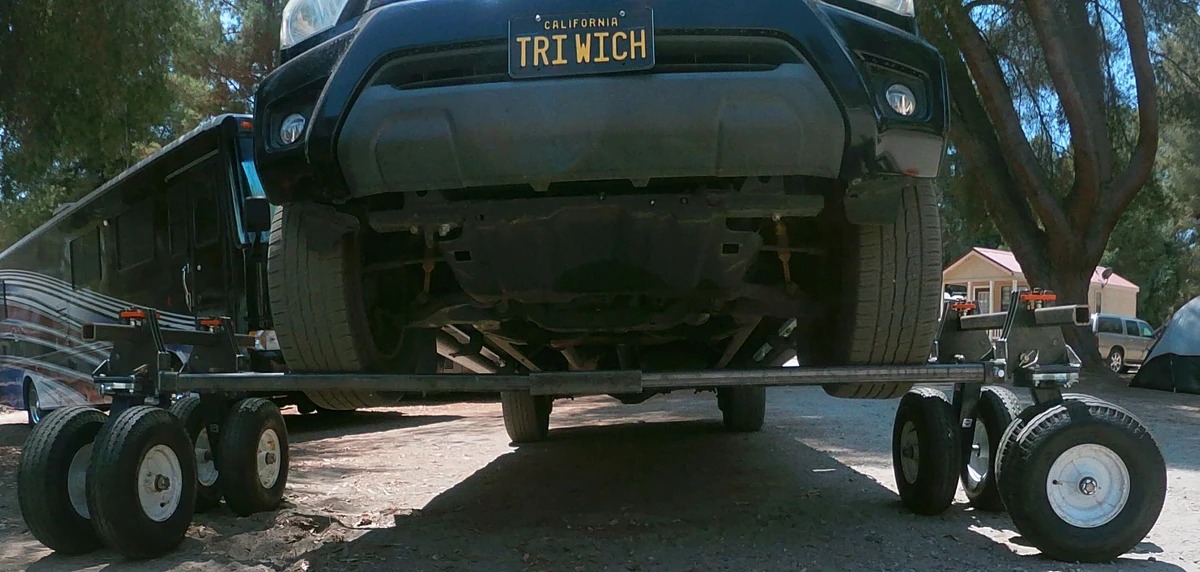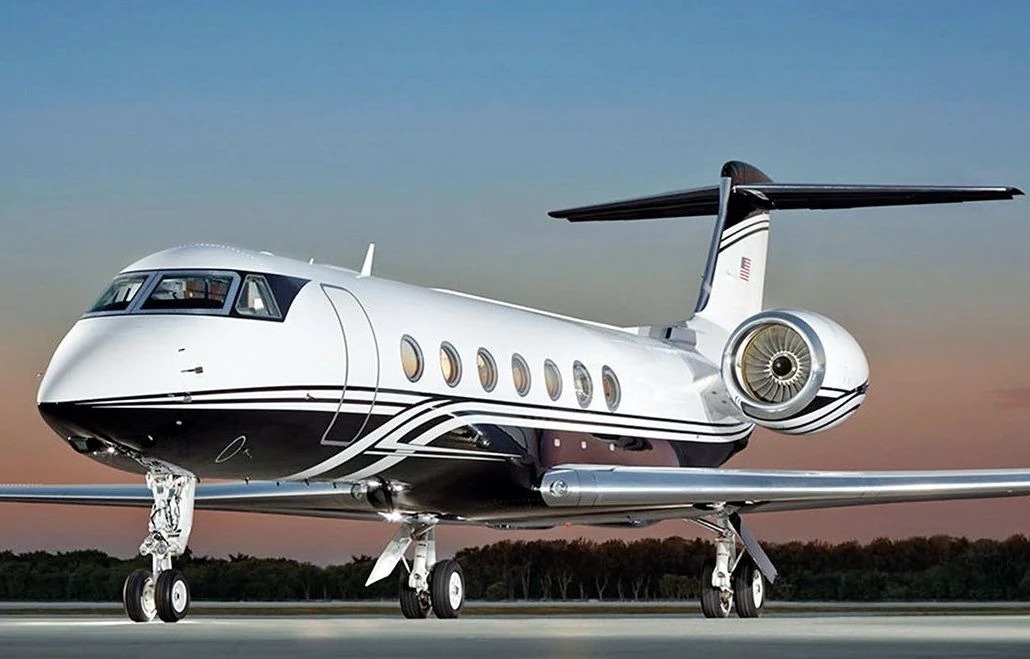 Airport Tarmac Dollies 99,000 lbs/tire (247,000 lb Aircraft)
When considering an Airport Tarmac Dolly, there are 3 main topics:
Double Wheels / Tarmac Grooves cut Capacity 50%
Wider the Wheels / Smoother the Ride 2″, 3″, or 4″ (2x)
Bigger Diameter / Faster Runway Speed 5″, 6″, 8″, 10″, 12″ (π r 2)