Modular Shipping Container Solutions
Innovative Mobility for Seamless Logistics
HtichWich (Forklifts, Tractors, Pickup Trucks
Trailer & Aircraft Caddies)
LiftWich (The Gooseneck Highway Dolly)
SwievelWich , SpindleWich, HitchWich, V-Wich, CaddyWich, ShockWich, LiftWich
Within 1 Year, TriWIch developed products to move Shipping Container Via Tractors, Forklifts, Towing by Trucks, Tugging by Aircraft Caddies, and Driving Down a Highway 100% Based on Customer Requests & 100% Customer Satisfaction
HitchWich The US Army/Navy Wagon Forklifts, Tractors, Trucks & Caddies
HitchWich enables you to move Shipping Containers with Forklifts, Tractors, Trucks and Caddies. There are three main parts
SpindleWich – Rear Axle – up to 14,000 lb Containers
SwivelWich – Front Axle – up to Fully Loaded Containers
HitchWich Tri-Coupler – 21k (without) 80k (with) Casters
The V-Bar is optional and we do recommend our Tri-Jacks to install 23″ Casters. The system works with and without casters and we are able to configure 8 casters per container.
0 Casters – Tractors or forklift (up to 21,000 lbs)
2 Casters – Trucks or Caddies
4 Casters – Enables 57,800 lbs with Pneumatics
Modular Tri-Jack 23" in 90 Seconds 5 ton and 8 ton USJacks Max 64,000 lb Container
This is an amazing product. We have two sizes:
Tri-Jack.2310 (Range 23″)(10,000 lbs/Jack)(40,000 lbs containers)
Tri-Jack.2316 (Range 23″)(16,000 lbs)/Jack)(64,000 lb containers)
The Jacks are modular and consist of our patented Tri-Lug, a Tri-Way , a Tri-Bar, two jack ears, and USJack Jack. They are modular because you can use them for so many other applications.
Easy to transport, assemble and use in tight areas not accessible to HD machinery: boats, aircraft, tight production areas.
SwivelWich
Spinning Containers 360 degrees
Off-Road: Pneumatic (28,800 / 57,600 lbs)
On-Road: Nylatron (99,000 / 198,000 lbs)
Forged Steel (120,00 / 240,000 / 320,000)
Shock Absorbing: (144,000 lbs)
The US Navy and Airforce contacted us after we posted this video. We are now involved in bids in every military branch including Space Force flying Fully Loaded Shipping Containers to Mars. With 16 lbs we manuever 40,000 lb casters at the lowest possible profile.
SpindleWich "Shipping Container Rear Axle Solution"
Most application do not require two Swivel Axles, so Rear Ridge Axles came next.
SpindleWich utilizes our USPTO Patented Twist and Lock "Tri-Lug" rated at 20,000 lbs/Tri-Lug. We offer 3 "Spindle" sizes for 7,000, 11,000 and 14,000 lb containers
Ridged Casters are necessary to go above 14,000 lb containers. We offer 9 different Ridged Caster options from 6,000 to 67,200 lb containers.
This video shows the simplicy of moving any container of any size with Modular Mobility concepts.
V-Wich "The US Navy Wagon"
Go where Semi-Trucks can go: Narrow dirt roads, maneuver tight turns in production areas V-Wich – A 120 degree swinging V towing hitch hook to any hitch
The US Navy Wagon – Navigating the curvy beach hills of San Diego (SpindleWich, Pneumatic SwivelWich and V-Wich Bar to pull with a Pintle Hook on a truck.
We have added V-Wich connectors to our HitchWich and CaddyWIch Tri-Couplers to give you the flexibility.
CaddyWich "The AT&T Aircraft Caddy System"
Airplane Caddies are used to pull in tight small areas where standard trucks or towing equipment can not operate.
Since the Caddy system is light, it requires a load on the coupler, thus it needs to be ridge. We initially called this our R-Wich, but we think CaddyWich has nice ring to it:
First application with AT&T production, using Tri60.T5 Nylatron SwivelWich 60,000 lbs Container Dolly, TriJack 64,000 lb container.
AT&T contacted TriWich after several failed attempts moving thier container, TriWich provided all the engineering support and the system worked frist time. They needed more turning radius so the pictures shows the Extention Bar..
Tri-Lug 20,000 lbs Container Connector Architects Dream Connector
Tri-Lug – patent approved
How does it work?
Inserting the heavy duty lug intot he 2×3 hole and turn 90 degrees, the plate cams the neck of the lug to the top of the casting corner locking in the upper edge to the ceiling of the casting corner. This forms a locked position in the maximum capacity configuration or 20,000 lbs/Tri-Lug Set screws pulls the lug into the the inner wall of the castiing corner taking away all the play and strengthing the system
What can you do with it?
We used our Tri-Lug design in ALL of our TriWich products. SwivelWich, ForkWich, SpindleWich, Tri-Jack, ect.It could be used to build garages, balconies, angled roofs. We think we could even build containers diagonally like a check board.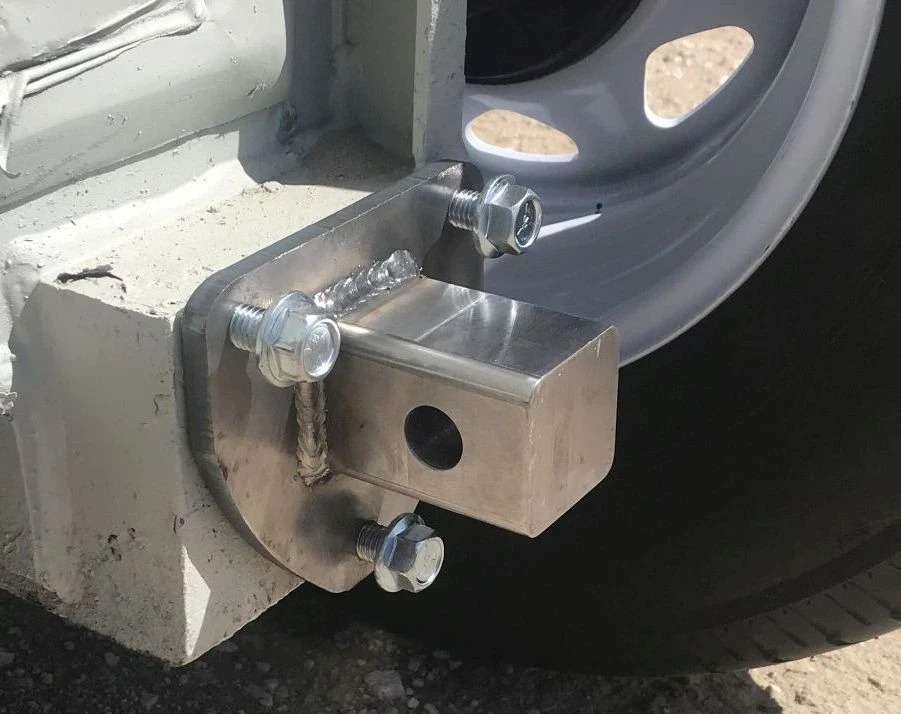 LiftWich Gooseneck Jack & Tow Shipping Container Solution
LiftWich enables pick-up trucks to:
Jack a Shipping Container 5-7 feet up into the air, roll under 1-2-3 Axles and drive down the highway
With 220 degrees of rotational maneuvering, no need for 125 feet of space to drop off a container
One Trailer for all Containers 10, 20, 40, 53 which reduces the number of registered trailers you need
Eliminate the 5,000 lbs chassis, reducing gas consumption
See LiftWich page for more details
BaseWich Modular Container Stand 10" to 42"
BaseWich was invented out of necessity for our LiftWich. We needed to support the container like a normal trailer so we could disconnect the truck and go shopping.
If you are looking for a simple container stand from 10″ to 42″ fully adjuatable to the height you need, this might be what your looking for. This is part of our patent, but not the center piece.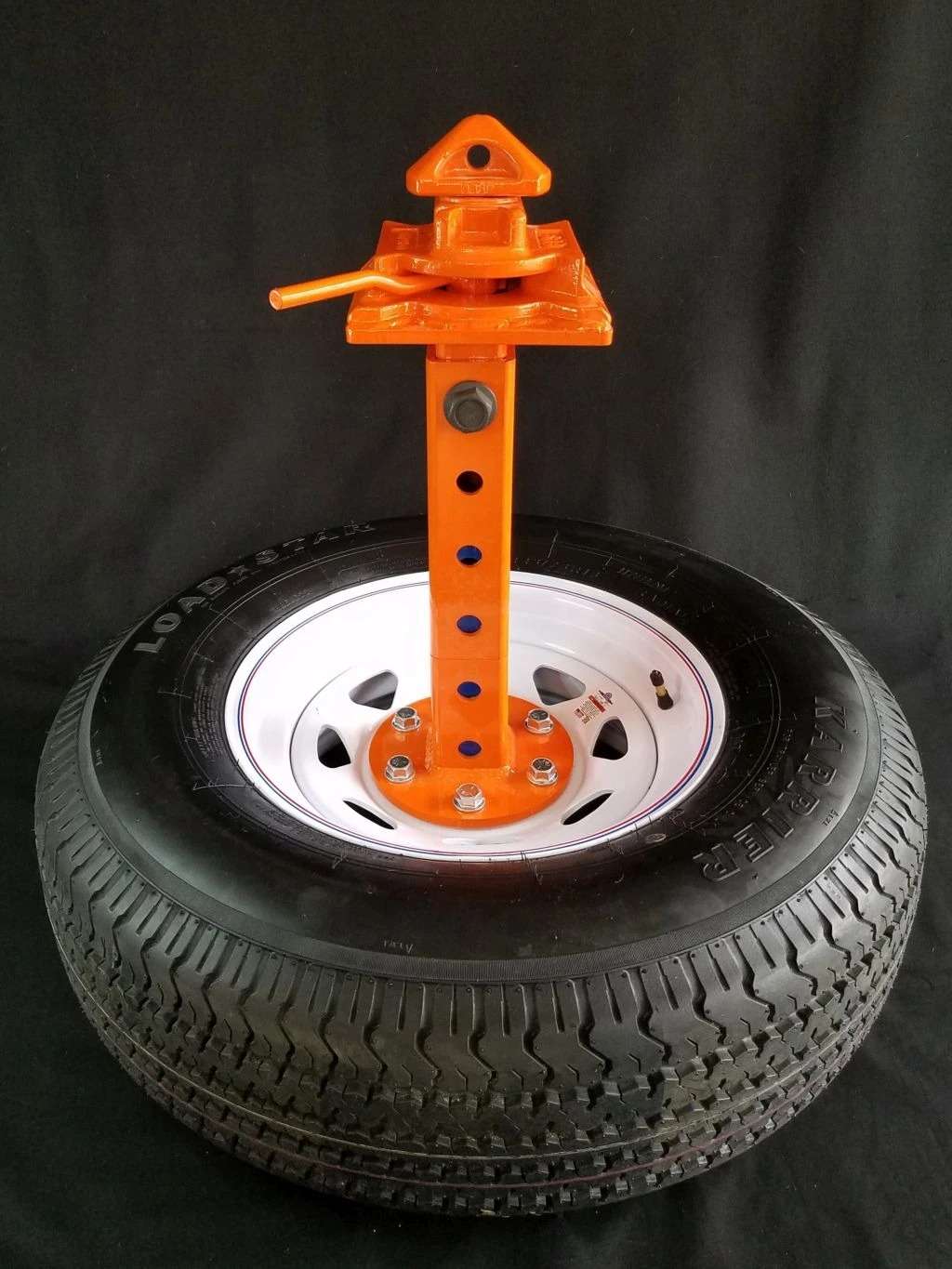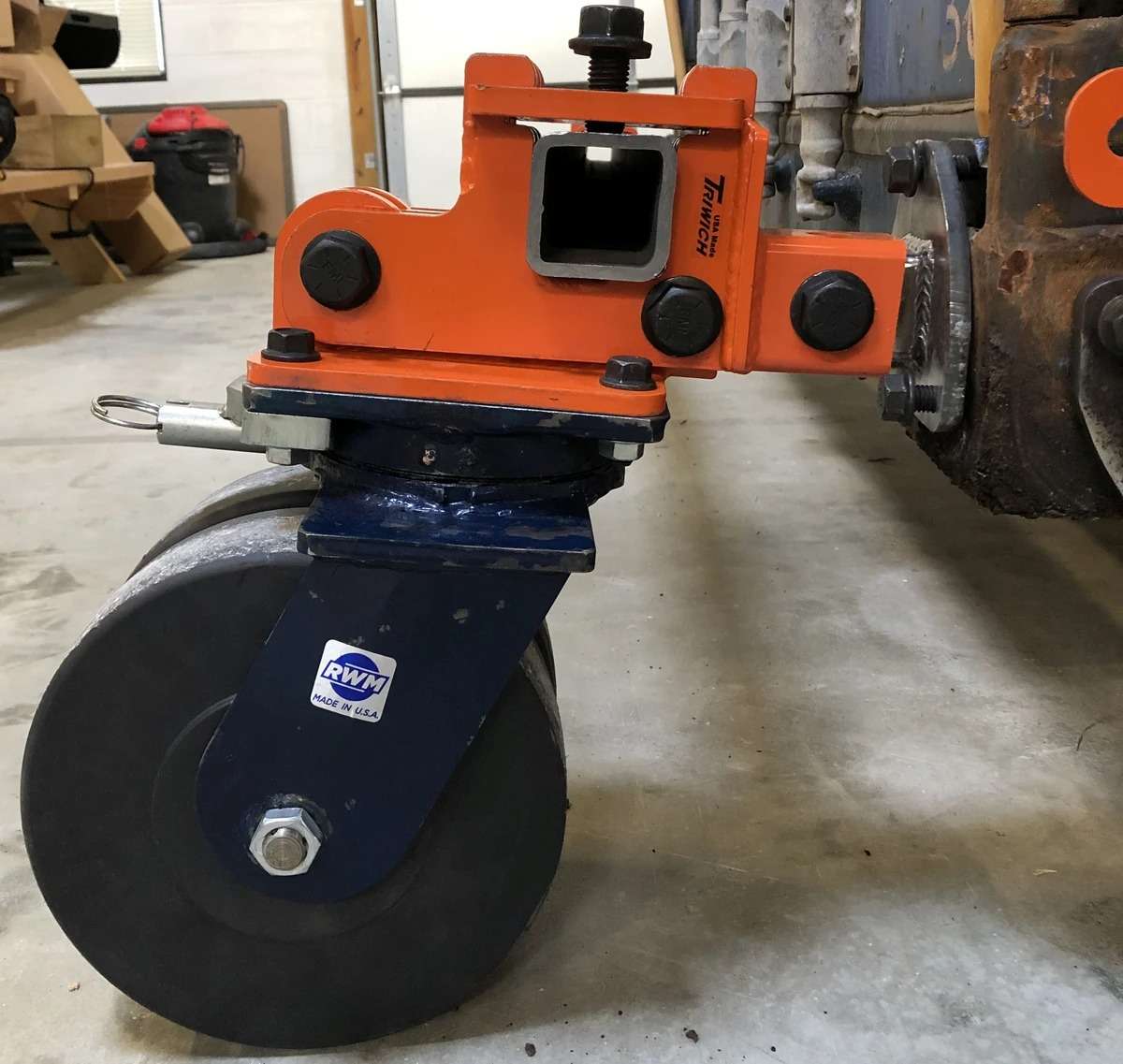 SwivelWich Nylatron On-Road Towing Solutions 198,000 lbs
Nylatron is a high-density rubber that is 10 times stronger than forklift rubber wheels. It is the highest capacity, smallest diameter wheel for both inside and outside applications. Pound for Pound is the best value Caster.
4″ smallest @ 1,200 lbs/TriWich (Min C1 Dolly 3,600 lbs)
12″ largest @ 33,000 lbs/TriWich (Max C2 Dolly 198,000 lbs)
ShockWich 144,000 lbs
Used to move fragile or expensive equipment without the use of a forklift or crane.
TriWich offers the highest capacity with the smallest footprint and weight, which translates to the best price in the market. Our pricing is at least 50% less than anyone else in the market.
To understand the WHY behind this product, you are welcome to check out the Tandemloc R17000E-1PA Hydraulic Lift Caster System. Nice but twice the cost.
SwivelWich Iron (High Temp)
Cast Iron (CI) or Urethane on Iron (UI) Casters have been the Traditional Industrial Heavy Duty Caster.
Iron casters are the best alternative for heavy-duty shock-absorbing applications.
We can provide these casters; however, to achieve the same capacity as Nylatron, larger diameter and wider wheels are necessary, which means they are considerably heavier and more expensive.
SwivelWich Machined Steel
Comes in two sizes.
10,000 lbs/caster; 30,000 lbs/C1 System; 60,000 lbs/C2 System; 6″ Caster; Caster Plate 6×7.5 (T20.10)
32,000 lbs/caster; 96,000 lbs; C1 System: 192,000 lbs; C2 System: 6.5″ Caster; Caster Plate: 8.5×8.5 (T25.40)
Caster height with that much capacity is amazing.